DARGENT Eric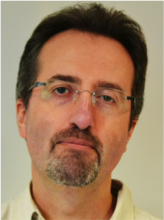 Curriculum Vitae
Titres et diplômes :
Sept 2008 : Professeur des Universités
Dec. 2005 Habilitation à Diriger des Recherches en Sciences
Influence de la microstructure sur la mobilité moléculaire des phases amorphes des polymères
1995-2008 Maître de conférences à la Faculté des Sciences et Techniques de Rouen 28ème section.
Déc. 1994 Doctorat de l'Université de Rouen, en science des matériaux.
Evolution de la microstructure de films polyester soumis à un traitement thermomécanique Mention très honorable avec félicitations du jury
Responsabilités collectives et d'enseignement :
Depuis 09/2016 Vice-président du Conseil Académique de l'Université de Rouen Normandie en charge des champs de formation Physique-Sciences de l'Ingénieur-Matériaux-Energie / Mathématiques-Information-Ingénierie des Systèmes
Depuis Juin 2015 Co-Responsable de la Mention de Master Sciences des Matériaux (avec Pr P. Pareige)
Depuis 01/2017 Responsable du département thématique « Systèmes Désordonnés et Polymères » du laboratoire GPM UMR 6634
Depuis 2017- Responsable de l'équipe EIRCAP du laboratoire GPM UMR 6634
05/2014-12/2016 Directeur du laboratoire LECAP EA 4528
Depuis 2014 French Director of EMME International Laboratory
2010-2014 Directeur adjoint du laboratoire AMME-LECAP EA4528
2012-2016 Responsable du Master International INCOMAT-EMME
(Ingénierie du Contrôle des Matériaux/Mechanics and Materials Engineering)
2013-2016 Membre élu du conseil de gestion de l'UFR de Sciences et Techniques
2013-2016 Membre du conseil scientifique de l'UFR de Sciences et Techniques
Depuis 2004 Membre du conseil de département de Physique
Depuis 2012 Membre titulaire de la CCSE restreinte d'établissement 28/63
Depuis 2009 Jury de 27 thèses, Jury de 5 Master of Science (Université de Lincoln USA, Université de Stellenbosch, SA), Jury de 6 HDR
Projets de Recherche:
Projet Région My Peace 2012: co responsable scientifique du projet
(3 ans 2012-2015, 1 thèse, 2 Masters, équipement). L'objectif de ce projet de recherche repose sur l'élaboration et la caractérisation physico-chimique d'un nouveau matériau membranaire échangeur de protons.
Projet Région AC/DC 2013:co responsable scientifique du projet
(Amorphous to Crystals/ Defective Crystals 3 ans 2013-2016, 2 thèses, 1 équipement Flash-DSC 100k€) portant sur la mobilité moléculaire des molécules et macromolécules chirales.
Projet Région Tracpapac 2014 : co-responsable scientifique
(3ans, une thèse, 2 équipement d'analyse thermique pour 100 k€). Le projet porte sur la mobilité moléculaire dans des systèmes polymères complexes : nanofibres, cristallisation sous écoulement.
Projet FEDER MACHI 2015

participation au projet

(direction d'une thèse)
Depuis la découverte par Pasteur de l'asymétrie moléculaire, l'étude de la chiralité 3D est devenue l'un des axes de recherche principaux sur les matériaux moléculaires, en particulier en raison de l'impact important du paramètre excès énantiomèrique (e.e.) sur de nombreuses propriétés (activités pharmaceutique et biologique en général, guide d'ondes, optique non linéaire, propriétés physiques des polymères bio-sourcés...). De plus, l'asymétrie moléculaire ouvre de nouvelles opportunités pour l'étude des systèmes dégénérés (l'excès énantiomèrique est une variable singulière qui offre, par exemple, des situations originales permettant de découpler des effets physiques). A noter que la connaissance et la maîtrise des mécanismes de vieillissement sont devenues des enjeux majeurs de nos sociétés tant du point de vue environnemental qu'économique. Le projet MACHI a donc pour objectifs : (1) la caractérisation fine du vieillissement des matériaux chiraux (moléculaires, macromoléculaires, bio-sourcés et biodégradables) et notamment l'étude de l'impact de la variable excès énantiomérique sur ce vieillissement, et (2) l'accès par voies physiques à des matériaux chiraux.
Projet FEDER SCAMPI 2016

participation au projet

(direction d'une thèse)
Le laboratoire AMME-LECAP, en collaboration avec le laboratoire Sciences et Méthodes Séparatives, l'équipe Matériaux Polymères Barrières et Membranes (laboratoire PBS) et l'équipe ERMECA (laboratoire GPM UMR CNRS 6634), a une fois de plus contribué à monter un projet régional intitulé "Solutions pour la Conception et l'Analyse de Matériaux à Propriétés Innovantes". Le financement, demandé à la région Haute-Normandie dans le cadre du GRR Matériaux et obtenu par le CPER 2014–2020, permettra entre autre de démarrer une thèse qui sera encadrée par le Professeur Eric DARGENT et le Maître de Conférences Antonella ESPOSITO ("Relations structure/propriétés physiques de polymères à base d'acide furandicarboxylique obtenu de la biomasse") en collaboration avec le Food and Biobased Research Centre (Wageningen, Pays-Bas).Coordinatrice du Projet SCAMPI : Dr. Valérie DUPRAY
Projet FEDER PAC Man 2016

,

Co-r

esponsable scientifique
Le projet PACMAN Paroi Anti-Crash avec MAtériaux Nouveaux est labellisé par Normandie AeroEspace et comprend 4 partenaires (Zodiac Aerosafety Systems, Analyses et Surface, Agro-Hall et Université de Rouen). Le projet vise à améliorer les phénomènes de perméabilité et de résistance aux attaques fongiques et au vieillissement afin de prolonger la durée de vie des matériaux tout en réduisant leur masse.
ANR 2016 Innovative Materials by MUlti-Nanolayer Extrusion (Projet IMMUNE). co-responsable scientifique,
Le financement du Projet IMMUNE permettra le recrutement d'un doctorant 50% PBS 50% LECAP (co-direction Stéphane MARAIS et Eric DARGENT) et d'un post-doctorant qui sera affecté au laboratoire PIMM à Paris sous la direction de Cyrille SOLLOGOUB.


Publications
Publications dans des journaux internationaux avec comité de lecture
2015
P59 Multifunctional hydrolyzed EVA membranes with tunable microstructure and water barrier properties
Soto-Puente J.A, Fatyeyeva K, Marais S, Dargent E.
Journal of Membrane Science, (2015) 480 93–103 (impact factor 2014 : 5.1)
P60 Molecular mobility and physical aging of plasticized poly(lactide)
L. Dobircau, N. Delpouve, R. Herbinet, S. Domenek, L. Le Pluart, L. Delbreilh, V Ducruet, E. Dargent
Polymer Engineering and Science, 55 (2015) 858-865 (impact factor 2012 : 1.3)
P61 Correlation between post fire behavior and microstructure degradation of PPS- and Epoxy-based composites for aeronautical applications
B Vieille, A Coppalle, C Keller, MR Garda; Q Viel; E Dargent
Materials & Design 74 (2015) 76-85 (impact factor 2013 : 3.2)
P62 Combining Flash DSC and Classical DSC to Determine Fragility and Fictive Temperatures
A Dhotel, B. Rijal, L. Delbreilh, E. Dargent, A. Saiter
Journal of Thermal Analysis and Calorimetry, (2015) 121:453–461 (impact factor 2013 :2.2)
P63 Poly(3-hydroxybutyrate-co-4-hydroxybutyrate) based nanocomposites: influence of the microstructure on the barrier properties.
R. Crétois, N. Follain, E. Dargent, J. Soulestin, S. Bourbigot, S. Marais, L. Lebrun
Physical Chemistry Chemical Physics, 17 (2015) 11313 (impact factor 2013 : 4.5)
P64 Crystallization kinetics and molecular mobility of an amorphous active pharmaceutical ingredient: A case study with Biclotymol
B Schamme, N Couvrat, P Malpeli, L. Delbreilh, V Dupray, E Dargent, G Coquerel
International Journal of Pharmaceutics 2015: 490 : 248-257( impact factor 2014 : 3.65)
P65 Molecular dynamics in electrospun amorphous plasticized polylactide fibers
X Monnier; N. Delpouve, N Basson; A Guinault; S Domenek; A Saiter; P E Mallon; E Dargent
Polymer (2015) 73 68-78 (impact factor 2014 : 3.56)
P66 Improvement of barrier properties of bio-based polyester nanocomposite membranes by water-assisted extrusion
S. Charlon, N Follain, C Chappey, E Dargent, J Soulestin, M Scavons, S MaraisS
Journal of Membrane Science (2015) 496, 185-198 (impact factor 2014 : 5.1)
P67 Segmental mobility and glass transition of poly(ethylene -vinyl acetate) copolymers : Is there a continuum in the dynamic glass transitions from PVAc to PE?
J A. Soto Puente; B. Rijal; L. Delbreilh; K. Fatyeyeva; A. Saiter; E. Dargent
Polymer (2015) 76, 213-219 (impact factor 2014 : 3.56)
P68 Structure-Barrier Property Relationship of Biodegradable Poly(butylene succinate) and Poly[(butylene succinate)-co-(butylene adipate)] Nanocomposites : Influence of the Rigid Amorphous Fraction
S. Charlon, S. Marais, E. Dargent, J. Soulestin, M. Sclavons, N. Follain
Physical Chemistry Chemical Physics (2015) 17 29918 (impact factor 2013 : 4.5)
2016
P69 Transformation of an active pharmaceutical ingredient upon high-energy milling: A process-induced disorder in Biclotymol
B. Schammé; N. Couvrat; P. Malpeli, E. Dudognon, L. Delbreilh, E. Dargent , G. Coquerel
International Journal of Pharmaceutics, 499 (1), 67-73 (impact factor 2015 : 3.65)
P70 Probing the chain segment mobility at the interface of semi-crystalline polylactide/clay nanocomposites
A Saiter, N Delpouve, E Dargent, W Oberhauser, L Conzatti, F Cicogna, E Passaglia
European Polymer Journal 78, 274-289 (impact factor 2015 : 3.5)
P71 Poly[(Butylene Succinate)-co-(butylene Adipate)]-montmorillonite nanocomposites prepared by water-assisted extrusion: role of the dispersion level and of the structure-microstructure on the enhanced barrier properties
S Charlon, N Follain, E Dargent, J Soulestin, M Sclavons, S Marais
The Journal of Physical Chemistry, Part C: 2016, 120, 13234 (impact factor 2015 : 4,5)
P72 From a three phases model to a continuous description of molecular mobility in semi-crystalline poly(hydroxybutyrate-co-hydroxyvalerate)
A Esposito, N Delpouve, V Causin, A Dhotel, L Delbreilh, E Dargent
Macromolecules, 2016, 49(13): 4850--4861 (impact factor 2015 :5.6)
P73 Rock permittivity characterization and application of electromagnetic
mixing models for density/compactness assessment of HMA by means of Step Frequency Radar
S Araujo, L Delbreilh, L Laguerre, H Dumont, E Dargent, C Fauchard
Near Surface Geophysics 2016 14 551-562 (impact factor 2015 : 1,2)
P74 Molecular Relaxations in Supercooled Liquid and Glassy States of Amorphous Quinidine: Dielectric Spectroscopy and Density Functional Theory (DFT) Approaches
B Schammé, M Mignot, N Couvrat, V Tognetti, L Joubert, V Dupray, L Delbreilh, E Dargent, G Coquerel
J. Phys. Chem. B 2016, 120(30): 7579--7592 (impact factor 2015 : 3,2)
P75 Influence of crystallinity on the dielectric relaxations of Poly(butylene succinate) and Poly[(butylene succinate)-co-(butylene adipate)]
S Charlon, L Delbreilh, E Dargent, N Follain J Soulestin, S Marais
European Polymer Journal 2016, 84, 366-376 (impact factor 2015 :3.5)
P76 Correlated/cooperative motions along the segmental relaxation: constitutive unit weight and intermolecular interaction influences
B. Rijal, J. A. Soto Puente, B. Atawa, L. Delbreilh, K. Fatyeyeva, A. Saiter, E. Dargent
Physical Review E 2016 94, 062502 (impact factor 2015 : 2.3)
2017
P77 Crystallization from the Amorphous State of a Pharmaceutical Compound: Impact of Chirality and Chemical Purity
Q. Viel, C. Brandel, Y. Cartigny, M. Eusébio, J Canotilho; V. Dupray, E. Dargent, G. Coquerel, S. Petit
Crystal Growth & Design 2017, 17, 337-346 (impact factor 2015 :4.4)
P78 Physical aging in PLA through DSC and Flash Scanning Calorimetry investigations
X Monnier, A Saiter, E Dargent
Thermochimica Acta, 648, 2017, 13–22 (impact factor 2016 :2.2)
P79 Layered EVA/EVOH membranes with enhanced water separation selectivity and performance
J. A. S. Puente, K. Fatyeyeva, C. Chappey, S. Marais, E. Dargent
ACS Appl. Mater. Interfaces, 2017, 9 (7), 6411–6423 (impact factor 2016 :7,5)
P80 Insights on the Physical State Reached by an Active Pharmaceutical Ingredient upon High-Energy Milling
B. Schammé, X. Monnier, N. Couvrat, L. Delbreilh, V. Dupray, E. Dargent, G. Coquerel
The Journal of Physical Chemistry B 2017, 121, 5142–5150 (impact factor 2016 :3.2)
P81 Optimization of experimental conditions for the monitoring of nucleation and growth of racemic Diprophylline from the supercooled melt
A.Lemercier, Q. Viel, C. Brandel, Y. Cartigny, E. Dargent, S. Petit, G. Coquerel
Journal of Crystal Growth, 2017, 472, 11–17 (impact factor 2015 :1.5)
P82 Compactness/density assessment of newly-paved highway containing recycled asphalt pavement by means of non-nuclear method
Construction & Building Materials 2017(impact factor 2015 :3.2) in press
P83 Molecular Mobility of an Amorphous Chiral Pharmaceutical Compound: Impact of Chemical Purity
Q Viel, L Delbreilh, G Coquerel, S Petit, E Dargent
The Journal of Physical Chemistry B, 2017, 121 (32), pp 7729–7740 (impact factor 2016 :3.2)
P84 Effect of Random Ethylene Comonomer on Relaxation of Flow‐Induced Precursors in Isotactic Polypropylene
Benjamin Schammé, Eric Dargent, Lucia Fernandez-Ballester
Macromolecules ASAP(impact factor 2016 :5.8)
P85 Local and segmental motions of the mobile amorphous fraction in semi-crystalline polylactide crystallized under quiescent and flow-induced conditions
X. Monnier L. Chevalier; A. Esposito; L. Fernandez-Ballester; A. Saiter; E. Dargent
Polymer in press (impact factor 2016 : 3.7)
Brevets
PIECE DE GARNITURE POUR VEHICULES, COMPORTANT UN PANNEAU NON TISSE AIGUILLETE POURVU DE FIBRES NATURELLES VEGETALES ET DE FIBRES DE POLYMERE
DARGENT ERIC; DELBREILH LAURENT; MOUGNARD LAURENT; RUPERT LUCIE
Brevet d'invention FR 3001422 (A1) Howa Tramico et Université de Rouen, janv 2013


Enseignements
Physique des matériaux polymeres (L3 Science et génie des matériaux, M1 et M2 sciences de la matière)